Horoscopes by Rob Brezsny
Week of May 19th, 2022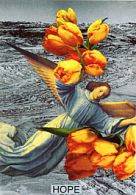 ♋ CANCERIAN
(June 21-July 22)
It will be in your interest to change more than usual in the coming weeks. I suppose you could wait around passively and scramble to adjust as life flings challenges your way. But the better approach would be to make conscious decisions about how you want to transform. Identify the situations that would most benefit from modification and then initiate the transitions. Rather than depending on fate to provide you with random wake-up calls, choose constructive wake-up calls that are fun and invigorating.
*
WHY IS IT CALLED "FREE WILL" ASTROLOGY? Because my goal is to create horoscopes that nurture your free will.
Contrary to what some people believe, there's no such thing as predestination. Fate is a tricky phenomenon that keeps changing its inclinations about where to go.
That's why I don't call myself a fortuneteller. My best service is as a psychic intelligence agent, helping you find hidden patterns and unconscious forces that may be affecting you. If I "predict" anything, it's not so much the future as the unknown parts of the present.
If you want more than the 'scopes you reading here, remember I also create
EXPANDED AUDIO HOROSCOPE
. They're further meditations on the state of your destiny.
To listen to your Expanded Audio Horoscope online,
GO HERE.
Register and/or log in through the main page.