Select a date
(required)

and sign

(optional)
Week of August 31st, 2023
You Are Probably Right Where You Should Be
It is eternity now; I am in the midst of it.
It is about me in the sunshine;
I am in it, as the butterfly in the light-laden air.
Nothing has to come; it is now.
Now is eternity; now is immortal life.
—Richard Jefferies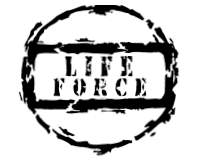 Here's
a link to my free weekly email newsletter
, featuring the Free Will Astrology horoscopes, plus a celebratory array of tender rants, lyrical excitements, poetic philosophy, and joyous adventures in consciousness.
It arrives every Tuesday morning by 7:30 am.
Sign up here for your subscription.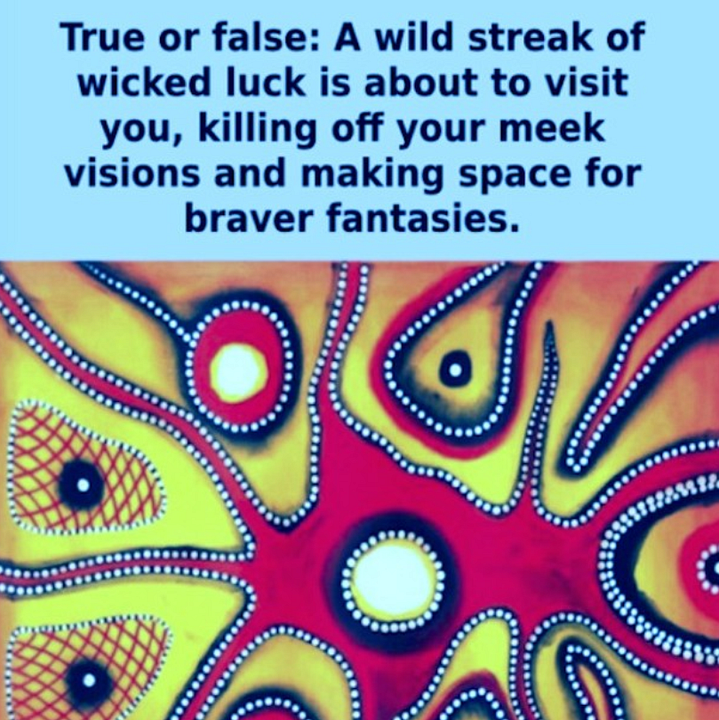 My book
Pronoia Is the Antidote for Paranoia
is available at
Amazon
and
Powells
and
Bookshop.org
Below are excerpts:
It's Bad Luck to Be Superstitious
Review in painstaking detail the history of your life,
honoring every moment as if you were conducting
a benevolent Judgment Day.
Forgive yourself of every mistake except one.
Create a royal crown for yourself
out of a shower cap, rubber bands, and light bulbs.
Think of the last place on Earth you'd ever want to visit,
and visualize yourself having fun there.
Test to see if people are really listening to you by asserting
that Karl Marx was one of the Marx Brothers.
Steal lint from dryers in laundromats
and use it to make animal sculptures for someone you admire.
Fantasize you're the child of divine parents
who abandoned you when you were two days old,
but who will soon be coming back to reunite with you.
Meditate on how one of the symbols of plenitude in Nepal
is a mongoose vomiting jewels.
Once a year on the night before your birthday,
say these words into a mirror: "It's bad luck to be superstitious."
Start a club whose purpose is to produce an archive
of controversial jokes and obscene limericks about beauty, truth, and love.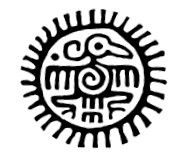 THE ORGASMIC ROTS OF PRONOIA  
Read the Not Safe For Work
"The Orgasmic Roots of Pronoia"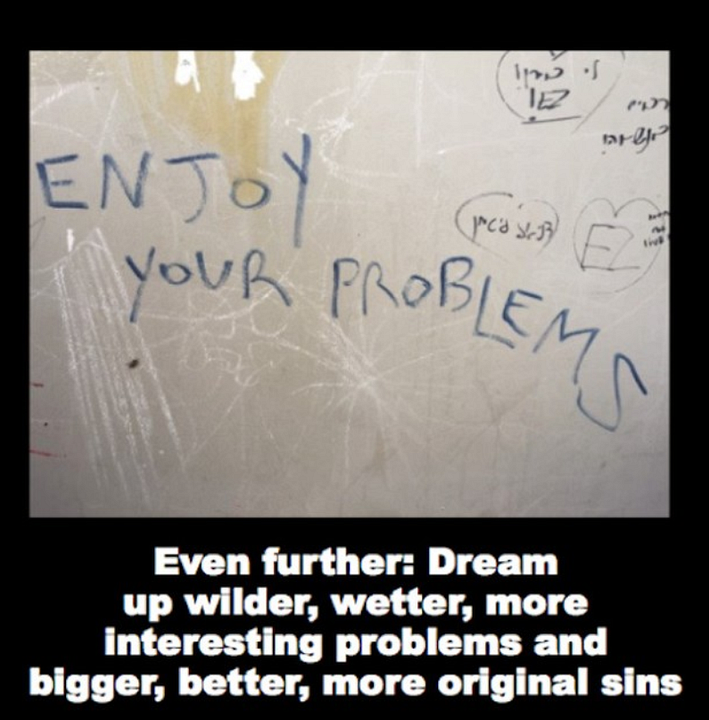 LIFE WILL DELIVER TO YOU THE CREATIVE ENERGY YOU NEED
Pronoia doesn't promise uninterrupted progress forever. It's not a slick commercial for a perfect balmy day that never ends. Grace emerges in the ebb and flow, not just the flow. The waning reveals a different kind of blessing than the waxing.
But whether it's our time to ferment in the valley of shadows or rise up singing in the sun-splashed meadow, fresh power to transform ourselves is always on the way. Our suffering won't last, nor will our triumph. Without fail, life will deliver the creative energy we need to change into the new thing we must become.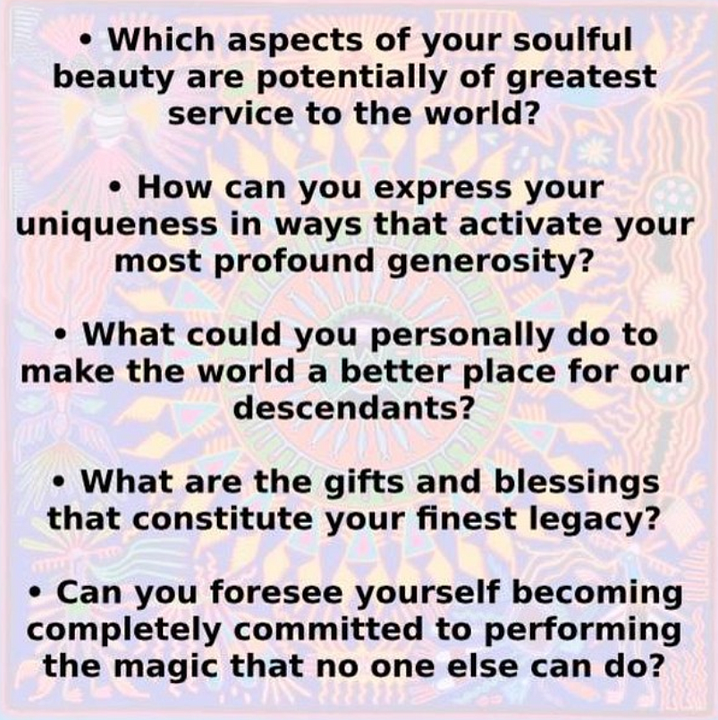 JUDGMENT DAY IS EVERY DAY
Many people sincerely think that they will be called before God to account for themselves on Judgment Day. If you yourself have held that belief, you can stop worrying about it. The fact is, according to a survey of over 800 dissident bodhisattvas, urban witch doctors, sacred agents, and undercover geniuses, that you are called before "God" on "Judgment Day" on a regular basis.
Since you still exist, you have apparently passed every test so far. "God" obviously keeps finding you worthy. You shouldn't get overconfident, of course. But maybe from now on you can assume that although there may be a world of pressure on you, that pressure is natural, merciful, and exactly what you need.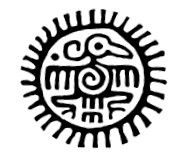 LET'S MAKE MORALITY FUN
Are you turned off by the authoritarian, libido-mistrusting perversity of the right-wing moral code, but equally reluctant to embrace the atheism embedded in the left wing's code of goodness?
Are you hungry for a value system rooted in beauty, love, pleasure, and liberation instead of order, control, politeness, and fear, but allergic to the sophistry of the New Age?
Are you apathetic toward the saccharine goodness evangelized by sentimental, superstitious fanatics, but equally bored by the intellectuals who worship at the empty-hearted shrine of scientific materialism?
It may be time for you to whip up your very own moral code. If you do, you might want to keep the following guidelines in mind:
1. A moral code becomes immoral unless it can thrive without a devil and enemy.
2. A moral code grows ugly unless it prescribes good-natured rebellion against automaton-like behavior offered in its support.
3. A moral code becomes murderous unless it's built on a love for the fact that EVERYTHING CHANGES ALL THE TIME, and unless it perpetually adjusts its reasons for being true.
4. A moral code will corrupt its users unless it ensures that their primary motivation for being good is because it's fun.
5. A moral code deadens the soul of everyone it touches unless it has a built-in sense of humor.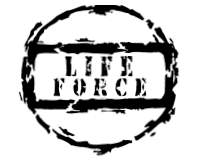 IMPOSSIBILITIES
"Everything that can be invented has been invented."
- Charles H. Duell, Director of US Patent Office, 1899
"Who the hell wants to hear actors talk?"
- Harry M. Warner, Warner Bros Pictures, 1927
"There is no likelihood man can ever tap the power of the atom."
- Robert Miliham, Nobel Prize in Physics, 1923
"Heavier than air flying machines are impossible."
- Lord Kelvin, President, Royal Society, 1895
"The horse is here today, but the automobile is only a novelty - a fad."
- President of Michigan Savings Bank advising against investing in the Ford Motor Company
"Video won't be able to hold on to any market it captures after the first six months. People will soon get tired of staring at a plywood box every night."
- Daryl F. Zanuck, 20th Century Fox, commenting on television in 1946
"Space travel is utter bilge."
- Sir Richard van der Riet Wooley, The Astronomer Royal (1956)
"Rail travel at high speeds is not possible because passengers, unable to breathe, would die of asphyxia."
- Dionysius Lardner, English scientist (1793-1859)
"While theoretically and technically television may be feasible, commercially and financially it is an impossibility."
- Lee DeForest, American inventor (1873-1961)
"Guitar music is on the way out."
- Decca Records turning down the Beatles, 1962.
"If I had thought about it, I wouldn't have done the experiment. The literature was full of examples that said you can't do this."
- Spencer Silver, originator of Post-It Notepads.
"Louis Pasteur's theory of germs is ridiculous fiction."
- Pierre Pachet, Professor of Physiology, 1872.
"This 'telephone' has too many shortcomings to be seriously considered as a means of communication. The device is inherently of no value to us."
- Western Union internal memo, 1876.
"Sensible and responsible women do not want to vote."
- Grover Cleveland, 1905
"Professor Goddard does not know the relation between action and reaction and the need to have something better than a vacuum against which to react. He seems to lack the basic knowledge ladled out daily in high schools."
- 1921 New York Times editorial about Robert Goddard's revolutionary rocket work.
"Stocks have reached what looks like a permanently high plateau."
- Irving Fisher, Professor of Economics, Yale University, 1929.
"Airplanes are interesting toys but of no military value."
- Marechal Ferdinand Foch, Professor of Strategy, Ecole Superieure de Guerre.
"The abdomen, the chest, and the brain will forever be shut from the intrusion of the wise and humane surgeon".
- Sir John Eric Ericksen, British surgeon, appointed Surgeon-Extraordinary to Queen Victoria, 1873.
"640K ought to be enough for anybody."
- Bill Gates, 1981
"Such startling announcements as these should be deprecated as being unworthy of science and mischievous to its true progress."
- Sir William Siemens, electrical engineer, upon hearing Edison's announcement of a successful light bulb.
"There is no reason anyone would want a computer in their home."
- Ken Olson, president of Digital Equipment Corp., 1977.
"I believe all the music that can be written has already been written. We're just repeating the past." - Tschaikovsky in a letter to his brother