Select a date
(required)

and sign

(optional)
Horoscopes by Rob Brezsny
Week of June 2nd, 2022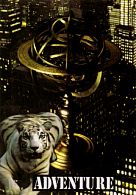 ♋ CANCERIAN
(June 21-July 22)
Poet Carolyn Kizer (1925–2014) won a Pulitzer Prize for her poetry. She was smart! But when she was young and still studying her craft in college, a professor objected to one of her poems. He said, "You have pigs in this poem; pigs are not poetic." Kizer was incensed at such ignorance. She testified, "I got up and walked out of that class and never went back." Judging from the astrological omens, I suspect you may have comparable showdowns headed your way. I advise you to be like Kizer. You are the only one who truly knows the proper subjects of your quest. No one else has the right or the insight to tell you what your work (or play) should be about.
*
Dear Readers: I love writing weekly horoscopes for you. I also love the fact that you can read them for free—and always have since I first started creating them many years ago.
Some people who enjoy my work are curious about this. How do I earn a living doing what I love to do if I simply give away my oracles?
The answer is that I also offer
Expanded Audio Horoscopes and Daily Text-Message Horoscopes
, and they cost money to use. Some people who draw inspiration from my free written horoscopes also choose to pay for my two other services. Hooray!
I plan to continue providing Expanded Audio Horoscopes and Daily Text-Message Horoscopes for years to come. To make sure this proceeds with maximum grace, I am switching them to a system with higher tech than I've had access to before.
The transition happened this past weekend. I expect there will be a few hiccups as the new machinery gets fully comfortable. Please be patient with it and me!
Here's a detailed explanation of the new system.
If you have any problems or questions at all, contact my kind and expert support team: freewillcs@gmail.com
And oh, by the way, I am also slightly raising the price—my first cost increase in 29 years! As always, there's a steep discount if you buy in bulk.