Select a date
(required)

and sign

(optional)
Horoscopes by Rob Brezsny
Week of September 24th, 2020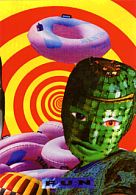 ♎ LIBRA
(September 23-October 22)
Seventy-nine-year-old Libran poet Robert Pinsky has had a triumphant life. He has published 19 books, including his own poems and essays, as well as translations of Italian and Polish poetry. For four years he served as the United States Poet Laureate. To what factors does he attribute his success? Here's one: "Whatever makes a child want to glue macaroni on a paper has always been strong in me," he testifies. He's referring to the primitive arts-and-crafts projects he enjoyed while growing up. In accordance with astrological omens, I encourage you, too, to get in touch and commune with the primal roots of the things you love to do. Reconnect with the original expressions of your passion for life.
*
DEAR READERS: I'm asking for your gifts and support!
If you would like to donate to me,
please visit my Gift Page
. Contribute via the "Friends and Family" option.
You can also support me (and get some inspiration!) by buying the
EXPANDED AUDIO HOROSCOPES
and
SUNBURSTS, my Daily Text Message Horoscopes
I create.
You can commit to making a regular donation through my
Patreon page
.
Send checks or cash to me at P.O. Box 4400, San Rafael, CA 94913.