Select a date
(required)

and sign

(optional)
Horoscopes by Rob Brezsny
Week of September 24th, 2020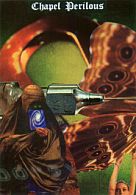 ♑ CAPRICORN
(December 22-January 19)
Novelist Henry Miller was in many ways a quintessential Capricorn. He described himself as being "in love with love, always in search of the absolute, always seeking the unattainable." Feelings like those are why your astrological symbol is the mountain goat that's always climbing higher, questing toward the next pinnacle. At your best, you're determined to keep striving for the brightest, the strongest, the truest. Sometimes you overdo this admirable imperative, but mostly it's a beautiful quality. You are hereby authorized to express it with maximum wisdom and eagerness in the coming weeks.
*
DEAR READERS: I'm asking for your gifts and support!
If you would like to donate to me,
please visit my Gift Page
. Contribute via the "Friends and Family" option.
You can also support me (and get some inspiration!) by buying the
EXPANDED AUDIO HOROSCOPES
and
SUNBURSTS, my Daily Text Message Horoscopes
I create.
You can commit to making a regular donation through my
Patreon page
.
Send checks or cash to me at P.O. Box 4400, San Rafael, CA 94913.