Select a date
(required)

and sign

(optional)
Horoscopes by Rob Brezsny
Week of November 21st, 2019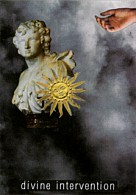 ♋ CANCERIAN
(June 21-July 22)
Some scientists deride astrology despite being ignorant about it. For example, they complain, "The miniscule gravitational forces beaming from the planets can't possibly have any effect on our personal lives." But the truth is that most astrologers don't believe the planets exert influence on us with gravity or any other invisible force. Instead, we analyze planetary movements as evidence of a hidden order in the universe. It's comparable to the way weather forecasters use a barometer to read atmospheric pressure but know that barometers don't cause changes in atmospheric pressure. I hope this inspires you, Cancerian, as you develop constructive critiques of situations in your own sphere. Don't rely on naive assumption and unwarranted biases. Make sure you have the correct facts before you proceed. If you do, you could generate remarkable transformations in the coming weeks.
*
DEAR READERS: Some of you are curious about how I earn a living. You've noticed that I give away my horoscopes for free—and have done so for many years. You appreciate the fact that my website isn't overrun with ads, that I provide numerous excerpts from my books for free, and that I almost never ask for money in my voluminous posts on Facebook, Twitter, and Instagram.
The fact is that I earn some money by syndicating my horoscopes in newspapers and by selling the books I've published. I also produce two other batches of horoscopes that are for sale: my weekly
EXPANDED AUDIO HOROSCOPES
and my daily
TEXT MESSAGE HOROSCOPES.
.
If you'd like to support my ability to thrive, please consider buying those other two horoscopes. Here's how you do it:
Go here.
Register or log in. On the new page, you have two choices: Expanded Audio Horoscopes or Daily Text Message Horoscopes.
If you have any questions about how to access them, write to my tech support team at freewillcs@gmail.com.
If you would simply like to donate to me,
please visit my Gift Page
. Contribute via the "Friends and Family" option.