Select a date
(required)

and sign

(optional)
Horoscopes by Rob Brezsny
Week of October 24th, 2019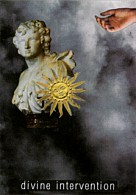 ♓ PISCES
(February 19-March 20)
If you've been having dreams or fantasies that the roof is sinking or the walls are closing in, you should interpret it as a sign that you should consider moving into a more spacious situation. If you have been trapped within the narrow confines of limited possibilities, it's time to break free and flee to a wide open frontier. In general, Pisces, I urge you to insist on more expansiveness in everything you do, even if that requires you to demolish cute little mental blocks that have tricked you into thinking small.
*
DEAR READERS: I get emails from readers who wonder how I earn a living. "For as long as I can remember, you've been giving away your horoscopes online for free," said Lannie from Austin. "How do you do it? Are you independently wealthy?"
The answer is no, I'm not independently wealthy. I earn some money by syndicating my horoscopes in newspapers and by selling the books I've published. I also produce two other batches of horoscopes that are for sale: my weekly
EXPANDED AUDIO HOROSCOPES
and my daily
TEXT MESSAGE HOROSCOPES.
.
If you'd like to support my ability to freely offer the FREE WILL ASTROLOGY horoscopes you read here, please consider buying those other two horoscopes. Here's how you do it:
Go here.
Register or log in. On the new page, you have two choices: Expanded Audio Horoscopes or Daily Text Message Horoscopes.
If you have any questions about how to access them, write to my tech support team at freewillcs@gmail.com