Select a date
(required)

and sign

(optional)
Horoscopes by Rob Brezsny
Week of April 19th, 2018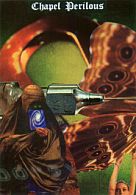 ♎ LIBRA
(September 23-October 22)
Singer-songwriter Roy Orbison achieved great success in the 1960s, charting 22 songs on the
Billboard
Top 40. But his career declined after that. Years later, in 1986, filmmaker David Lynch asked him for the right to use his tune "In Dreams" for the movie
Blue Velvet.
Orbison denied the request, but Lynch incorporated the tune anyway. Surprise!
Blue Velvet
was nominated for an Academy Award and played a big role in reviving Orbison's fame. Later the singer came to appreciate not only the career boost, but also Lynch's unusual aesthetic, testifying that the film gave his song an "otherworldly quality that added a whole new dimension." Now let's meditate on how this story might serve as a parable for your life. Was there an opportunity that you once turned down but will benefit from anyway? Or is there a current opportunity that maybe you shouldn't turn down, even if it seems odd?
*

WHY IS MY HOROSCOPE COLUMN CALLED "FREE WILL" ASTROLOGY?

It's called Free Will Astrology because my goal is to create horoscopes that nurture your free will.

Contrary to what some horoscope fans believe, there's no such thing as predestination. Fate is a tricky, wiggly sucker that keeps changing its mind about where it wants to go. The stars may impel, as the astrological saying goes, but they don't compel.

That's why I've never considered myself a fortuneteller. I prefer to think that my greatest service is as a psychic intelligence agent, helping you expose the hidden patterns and unconscious forces that may be affecting your life without your knowledge.

If I "predict" anything, it's not so much the future as the unknown part of the present.

And if you ever want more than the 'scopes you're reading here, keep in mind that I also create EXPANDED AUDIO HOROSCOPES for you. They're four-to-five-minute meditations on the current state of your destiny.

These forecasts are different in tone and format from the written horoscopes you read here in the newsletter. They're longer and more leisurely in tone. They tend to bring out more of the patient counselor in me, and have a bit less of the poet.

Buy and listen to your EXPANDED AUDIO HOROSCOPE.