Select a date
(required)

and sign

(optional)
Horoscopes by Rob Brezsny
Week of November 12th, 2009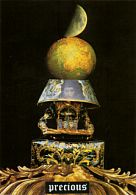 ♌ LEO
(July 23-August 22)
Mathematician Charles Babbage (1791-1871) is considered a "father of the computer." Among his many inventions, he created a mechanical calculator that was a forerunner of the magical device that's so indispensable today. And yet Babbage had other obsessions that were not as useful. For his own amusement, he once counted all of the panes of glass that had been broken in a factory over a period of 10 months, and investigated the cause of each break. He also spent an inordinate amount of time estimating the statistical probability that the miracles reported in the Bible had actually occurred. I bring this up, Leo, in the hope that you will concentrate on your own equivalent to Babbage's calculator, and not get sidetracked by meditations on broken glass and Biblical miracles.

Would you like to hear me say some more about your ever-evolving destiny? Check out your EXPANDED AUDIO HOROSCOPE.
*

SACRED ADVERTISEMENT
Thousands of things go right for you every day, beginning the moment you wake up. Through some magic you don't fully understand, you're still breathing and your heart is beating, even though you've been unconscious for many hours. The air is a mix of gases that's just right for your body's needs, as it was before you fell asleep.

You can see! Light of many colors floods into your eyes, registered by nerves that took God or evolution or some process millions of years to perfect. The interesting gift of these vivid hues is made possible by an unimaginably immense globe of fire, the sun, which continually detonates nuclear reactions in order to convert its own body into light and heat and energy for your personal use.

You can't live without the sun's inexhaustible flood of unconditional love. Every move you make depends on it. Luckily, it never fails you. Did you know that your personal star is located at the precise distance from you to be of consummate service? If it were any closer, you'd fry, and if it were any farther away, you'd freeze. Is that just a happy accident? Or is it a sign of favor -- a big, broad hint, from a cosmic intelligence that adores you?

Of the many things that have gone right for you during your time on Earth, the most crucial was your birth. As you crossed over the threshold, trading the warm dark sanctuary for the bright noisy enigma, you didn't die! It was a difficult act of high magic that involved many people who worked very hard in your behalf. The skills they provided in helping you navigate your rite of passage were in turn made possible by previous generations of threshold-tenders who bequeathed their expertise.

Months before that initiation, a more secret miracle bloomed: Your life began as a single cell, spawned by the explosive fusion of two highly specialized bundles of chromosomes. How could that tiny package of raw material have possibly grown a brain and liver and heart and stomach over a period of a few months? What inscrutable genius guided and oversaw the emergence of your fully formed infant body, that virtuoso creation, from the slimmest of clues?

You can drink a glass of water. You can spread butter on a slice of toast. You can wash your hair and prune your plants and draw infinity signs on a piece of paper. Your hands work wonderfully well! Their intricate force and sustained grace are amply supported by your heart, which circulates your blood all the way out to replenish the energy of the muscles and nerves in your fingers and palms and wrists. After your blood has delivered its blessings, it finds its way back to your heart to be refreshed. This masterful mystery repeats itself over and over again without you ever having to think about it.
*
The preceding oracle comes from the revised and expanded edition of my book, PRONOIA Is the Antidote for Paranoia: How the Whole World Is Conspiring to Shower You with Blessings. You can order it at Amazon or Barnes & Noble.