Ecstatic Study Guide, Part 4
(Excerpted from my book,
PRONOIA Is the Antidote for Paranoia
.)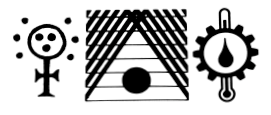 Strategies for plying a chronic, low-key, blissful union with everything you're not
1. "Picture the Grand Canyon," says Buddhist teacher Jack Kornfield. "Every hundred years, a child comes by and throws a mustard seed into it. In the time it takes to fill the hole in the earth with mustard seeds, one maha­kal­pa will have passed. To perfect the virtuous heart -- the joy of integrity -- takes a thousand mahakalpas."
If that's true, then you've still got a lot of work to do. The good news is that civilization is in the midst of a critical turning point that could tremendously expedite your ripening. So you could make unusually great progress toward the goal of perfecting the virtuous heart in the next 40 years.
For best results, meditate often on the phrase "the joy of integrity." Get familiar with the pleasurable emotion that comes from acting with impeccability. And try out this idea from Gandhi: Integrity is the royal road to your inner freedom.
P.S. Oddly enough, the work of perfecting the virtuous heart is very effective in helping you master the art of cultivating everyday ecstasy. Meditate on the connection.
2. While loitering on a sidewalk outside a nightclub in San Francisco on a September night in 1994, I found the cover of a booklet lying in the gutter. Written by Marilena Silbey and Paul Ramana Das, it was called
How to Survive Passionate Intimacy with a Dreamy Partner While Making a Fortune on the Path to Enlightenment.
Sadly, the rest of the text was missing. Ever since, hungry for its wisdom, I've tried to hunt down a copy of the whole thing, but to no avail.
I'm hoping that maybe you will consider writing your own version of the subject. If you do, please send it to me.
3.
The New York Times
ran a story about philosopher Nick Bostrom, who believes there's a significant chance our world is actually a computer simulation. In his scenario, you and I are living in a version of The Matrix. Our "brains" are merely webs of computer circuits created by our post-human descendants, who are studying "ancestor simulations" of their past. I bring this to your attention because I'd like to invite you to find out, one way or another, whether Bostrom is correct.
Make it your intention to cultivate a talent for knowing what's real and what's not. Develop a knack for escaping what's illusory and gravitating toward what's authentic. If you do these simple things, I bet you will earn a big reward: a chronic, low-key, blissful sense of union with pretty much everything that's appealing to you.
Bonus: Even if you do find out that we're living in The Matrix, you could become a messiah with resemblances to the character that Keanu Reeves played in the film trilogy. He could fly.